CLICK IMAGES TO VIEW ACTORS' WEBSITES
CLICK HEADERS TO VIEW CHARACTER TRAILERS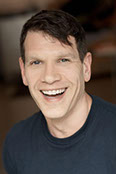 Mickey joyously returns to acting after many years. Most recently he has appeared: (theater:) Lord Saye/Roger Bolingbroke in King Henry VI, Part II (Shakespeare Folger Theatre), Clarence in Richard III (The Gallery Players) and Quintas/Nurse in Titus Andronicus (Thrillpeddlers' Hypnodrome). (Film/TV/Web:) Joseph in The Restaurant (web series), Jordan in Embrace (NYU Grad Project). Renfield in Dracula at the Morris-Jumel Mansion in New York City. He is humbled and empowered and very grateful to be playing this auspicious role of King Lear and hopes it is the beginning of many great Shakespearean roles to come.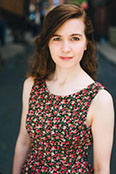 Anna Paone (Cordelia) has always loved the role of Cordelia and is thrilled to work with Frank and DM Theatrics. Past performances include Our Town (Emily), Arms and the Man (Raina), The Importance of Being Earnest (Cecily), and various readings with Ensemble Artists Theatre and Primary Stages/ESPA, among others. She is the director and lead actress of the short film Our Lady of the '80s, which should be available soon, if it's not already by the time you read this. She thanks Frank, the cast and crew, her mom, dad, and Laura, Matt, and God.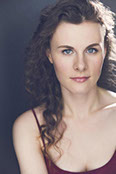 Born in England and raised in Sacramento, CA., Melody has loved acting since she was cast in her first play in the second grade. She had one line: "I think she's cute when she's angry." She moved to New York City to study at New York University where she graduated with a BFA in Theatre. Past credits include The House of Bernarda Alba (NYU/Atlantic Acting School), Our Town (NYU/Atlantic Acting School) and various short films. Born with the dream to one day play an evil Queen, Melody is excited to be playing Goneril. When not acting, she spends her time traveling, making small talk with dogs walking down the street, and eating at the overwhelming number of restaurants in the city. Many thanks to Frank and everyone at DMTheatrics.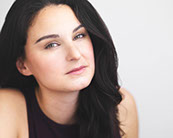 Annella is a New York-based actress who originally hails from Richmond, Virginia. She recently completed her B.F.A. at NYU's Tisch School of the Arts, through which she studied at the Atlantic Acting School and Stonestreet Studios. She has been in a lot of productions that you never saw but that her parents were very proud of. Favorite credits include Martirio in The House of Bernarda Alba, Woof in Hair, and the titular character in a devised performance of Yerma. Additionally, Annella is a company member of Tandem Children's Theatre Company. She is excited to be joining the #Lear team and can't wait to share the project with you all. Many thanks to M.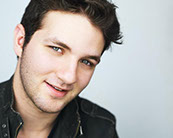 ELIJAH DIAMOND portrays EDGAR.
Theater: The Seagull (Atlantic Acting School); Rat Girl (DIVAFest San Francisco); Full Monty (Ray of Light); Shaken Not Stirred (Ninjaz of Drama). Education Atlantic Acting School, NYU.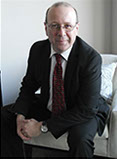 KEVIN HAUVER portrays GLOUCESTER.
Training: Suny New Paltz; Stage: Merry Wives of Windsor, 'Tis Pity She's a Whore, The Winter's Tale (American Shakespeare Center), Of Mice and Men (Roxy Regional Theatre), Richard III (LIU Kumble Theatre), A View From the Bridge (Brooklyn Heights Players), Rosencrantz and Guildenstern are Dead (Highland Players NC).
Jake, originally from Florida, moved to New York 3 years ago to pursue his dream of making an impact in the world of art and acting. A graduate of the American Academy of Dramatic Arts, his favorite credits include the Tutor in Medea, Rohan in The Factory Girls, Daniel in Once on This Island, and Mark Antony in Julius Caesar. A lover of acting, design, singing and dancing, he's always looking to create with others. He would like to thank DMTheatrics for the amazing opportunity to play Edmund, and his cousin Kory for always believing in him.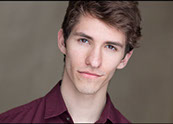 PATRICK T. HORN portrays KENT.
MFA recipient from the New School for Drama. Recent NY stage credits: Rosencrantz (Hamlet, Torn Out Theater), Eddie (Asylum, New Dance Theatre) Alex (The Dead, Irish Repertory Theater) and He (Shooting Rats, Second Circle Theatre Co.). Recent NY film credits: After Party (Kate Stahl, NYU Graduate Film) and Parental Pride (Lisa Vear, Forever Home Productions).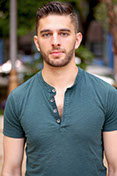 NICK CHRIS portrays ALBANY.
Recent credits include Edgar in King Lear and Brutus in Julius Caesar. Nick is from Boston and holds a BFA from Emerson College and an MFA from The New School for Drama.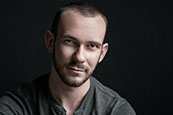 A multi-lingual New York based actor, writer, producer, and stage combat practitioner, Omri was born in London, and grew up in Tel Aviv, Paris, Athens and Vienna before coming to New York to earn his BFA in Drama at New York University. He trained at the Stella Adler Studio, the Stonestreet Film Studio, and the Royal Academy of Dramatic Art in London. He has been seen on stage in a variety of roles ranging from Shakespearean (King Hamlet's Ghost in Hamlet, Benedick in Much Ado About Nothing), to the surrealist creations of Ionesco (Father Jack in The Future is in Eggs, a UK Premiere) and roles in contemporary dramas (Van in Dog Sees God). He has choreographed stage combat sequences for a variety of shows and has received recommended passes from the Society of American Fight Directors in five weapon disciplines. Most recently, he adapted and produced a unique production of Coriolanus where stage combat plays a primary storytelling role.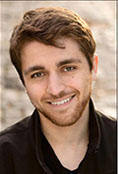 ALEXANDER CHILTON portrays LEAR'S FOOL.
A native of Dayton, Ohio, Alexander graduated with a degree in English literature from the University of Dayton. During his studies, he became deeply involved with his school's Theatre Department, acrting in several of their mainstage productions, such as Edward Albee's The Zoo Story (Jerry), Jean Anouilh's Antigone (Creon), and The Winter's Tale (Leontes). He has performed in several regional plays across Ohio, where, among several other productions, he has acted in The Tempest (Antonio), Richard III (Buckingham), and Hamlet (Hamlet). Recently, Chilton has completed studying with the Atlantic Acting School's Professional Conservatory. His latest performance was as labor union leader Philip Murray in Danny Rocco's Convention, a new play about the political manipulations and intrigue surrounding the 1944 Democratic National Convention, and staged at Atlantic's Linda Gross Theater.

MARGUERITE VIRGINIA portrays OSWALD.
Marguerite is excited to make her DMTheatrics debut in #LEAR. She has a BFA in Musical Theatre and is a member of the New York City based Name of Bird theater company. Most recently has been seen in Lucky Stiff, Thoroughly Modern Millie, and Dr. Faustus, and is working with NoB on a production of Macbeth. Marguerite has a passion for Shakespeare and is excited to bring the story of King Lear to life in a new and exciting way!
In a nearly twenty-year career in independent theater, DMT artistic director FRANK CWIKLIK has directed, written, and/or produced dozens of shows in many of the most acclaimed and revered of downtown theater venues, including the late, lamented Todo con NADA, the Kraine, the Brick, and the sorely missed Red Room Theater. Named to Indie Theater Now's NYC Theater Hall of Fame in 2010, his best-known original work, Bitch Macbeth, is one of the few non-Broadway manuscripts to be permanently archived at the prestigious Billy Rose Theater Collection at Lincoln Center. His work has been praised in the New York Times, Time Out New York, NYTheatre.com, Backstage and others, and has won several OOBR Awards. As a video editor and filmmaker, his work has been seen on CNN, the BBC, and Al Jazeera, and his staging of the notorious Two Gentlemen of Lebowski broke box office records for downtown New York theater and attracted audiences from across the US and Canada, as well as Germany, the UK, and Australia. He has worked as a sound designer and lighting designer in numerous NYC venues, including the Coney Island Sideshow, the Ice Festival, La Mama, and the Brick. His play Sugarbaby! was published in NYTE's Plays and Playwrights 2005, and has been used as course material in theater and playwriting classes at the college and high school level. His brash, assertive, cinematic style, which leans heavily on sound and lighting design and locale to establish storytelling, mood, and setting, has proven both ahead of its time and highly influential, and his pioneering use of cinema and pop culture as theater texts predicted the rise of mashup culture by decades. He works steadiy in NYC as a commercial voiceover artist, having recorded for Hasbro, Toyota, Hood Cottage Cheese, the Boston Museum of Science, and others, as well as recording industrial demos for advertising agencies across Manhattan. He is represented by Sandy Gunar at Avanti Talent.